Remote learning has come a long way since the days of taking correspondence courses via the U.S. postal service during the 19th century. Today, technology has made it possible for students to complete an online bachelor's degree program from anywhere in the world.
As more students choose to go to college online after high school, more and more affordable online college programs are becoming available. These programs offer an alternative to the traditional college experience.
Featured Online Colleges
Learn about start dates, transferring credits, availability of financial aid, and more by contacting the universities below.
Out of the more than 19 million college students enrolled in the fall of 2020, 75% were enrolled in at least one online education course at degree-granting postsecondary institutions. Of all undergraduate students, 44 percent (7.0 million) exclusively took online education courses. Institutions that give associate degrees or higher are counted in the data from all 50 states and Washington, D.C. These institutions also accept federal financial aid programs.
What are Accredited Online Colleges and Why is Accreditation Important?
Not all online colleges are created equal, and it's important to ensure that the institution you choose is accredited. Accreditation is an important aspect to consider when choosing an online college. It ensures that the institution or program has met certain standards of quality and that the education received is rigorous and of high quality. Accreditation also allows for the transferability of credits, eligibility for financial aid, and recognition from employers. It's important to verify that the institution you are considering is accredited before enrolling.
What is Accreditation?
Accreditation is a process of evaluation that educational institutions undergo to ensure that they meet certain standards of quality. This evaluation is conducted by independent accrediting agencies that have been recognized by the United States Department of Education or the Council for Higher Education Accreditation (CHEA).
Types of Accreditation
There are three types of accreditation: regional, national, and programmatic.
Regional Accreditation
Regional accreditation is the most widely recognized and respected form of accreditation. It is granted to institutions that are located within a particular region of the United States and have met the standards set by the accrediting agency for that region. There are seven regional accrediting agencies in the United States.
National Accreditation
National accreditation is granted to institutions that are not regionally accredited but have met the standards set by a national accrediting agency. National accreditation is typically granted to vocational, technical, or career schools.
Programmatic Accreditation
Programmatic accreditation is granted to specific programs within an institution, rather than to the institution as a whole. This type of accreditation ensures that the program meets certain standards of quality and is preparing students for careers in their chosen fields.
Importance of Accreditation
Accreditation is important for several reasons.
Quality Assurance
Accreditation ensures that an institution or program has met certain standards of quality. This means that students can be assured that they are receiving a quality education that meets national standards.
Transferability of Credits
Accreditation is important for students who plan to transfer credits from one institution to another. Credits earned at an accredited institution are more likely to be accepted by other accredited institutions.
Eligibility for Financial Aid
Accreditation is also important for students who are seeking financial aid. The U.S. Department of Education requires that institutions be accredited in order for their students to be eligible for federal financial aid.
Employer Recognition
Employers often prefer to hire graduates from accredited institutions because accreditation ensures that the institution has met certain standards of quality and that graduates have received a rigorous education.
How to Verify Accreditation
It's important to verify that the institution you are considering is accredited. The U.S. Department of Education and the Council for Higher Education Accreditation both maintain databases of accredited institutions. You can also check the institution's website or contact the accrediting agency directly to verify accreditation.
Most Affordable Online Colleges Ranking
Citing tuition data compiled by OnlineU.org, Best Universities identified the 10 most affordable, accredited online college programs to earn a bachelor's degree.
Featured Online Colleges
Learn about start dates, transferring credits, availability of financial aid, and more by contacting the universities below.
Most Affordable Accredited Online Colleges for 2023
Canva
#10. Arkansas State University Online
According to our analysis, Arkansas State University is the #10 most affordable online university.
– Annual tuition: $7,130
– Acceptance rate: 67%
– Graduation rate: 54%
– Students receiving financial aid: 100%
– In-State Cost per Credit Hour: $258 per credit
– Out-of-State Cost per Credit Hour: $774 per credit
Arkansas State University's online programs have had more than 10,000 graduates. Arkansas State is approved on a regional and national level by the Higher Learning Commission and the Association to Advance Collegiate Schools of Business International.
There are more than 20 online undergraduate programs that range from business administration and criminology to political science and strategic communication. The programs have rolling start dates throughout the year, making it easier for online students to start coursework sooner.
Most Popular Majors
Liberal Arts and Humanities
Criminology
Radio and Television
Communications
Sociology
Political Science and Government
Homeland Security and Disaster Management
Digital Communication and Media/Multimedia
FIND ACCREDITED ONLINE COLLEGES
A list of regionally accredited online colleges or nationally accredited online colleges and details about how accreditation works.
Alena Ozerova // Shutterstock
#9. Western Governors University
– Annual tuition: $7,452
– Acceptance rate: 100%
– Graduation rate: 64%
– Students receiving financial aid: 73%
– Student Faculty Ratio: 31:1
– Median Earnings 6 Years After Graduation: $41,900 per year
– Employed 2 Years After Graduation: 87%
– Median Earnings 2 Years After Graduation: $39,300 per year
Western Governors University was founded by 19 governors of the United States. Instead of adding credit hours, it uses a system based on skills and knowledge that tests essential skills and knowledge. The school's tuition is flat, so students can take as many classes as they can in a term. Progress toward an online degree is based on passing assessments that measure online students' skills and knowledge in their field of study. WGU is the first university where all degrees are competency-based.
Most Popular Majors
Nursing
Business
Elementary Education
Computer and Information Systems Security
Accounting
Human Resources
Special Education and Teaching
Healthcare Management
Information Technology
Management Sciences and Information Systems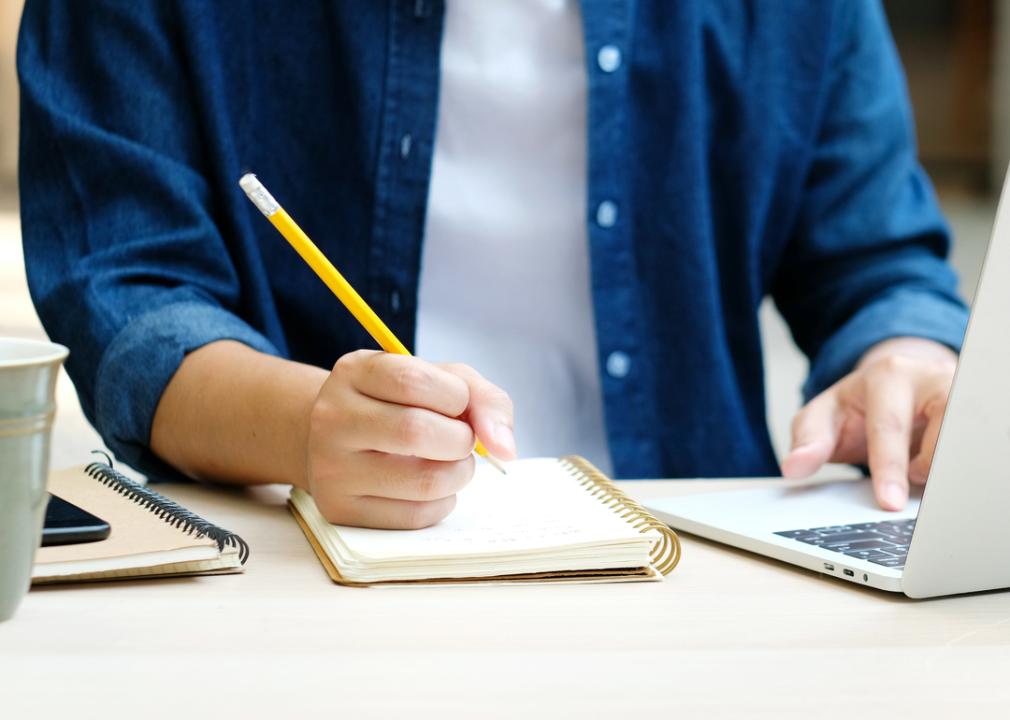 mangpor2004 // Shutterstock
#8. University of Wisconsin-Green Bay
– Annual tuition: $7,873
– Acceptance rate: 90%
– Graduation rate: 55%
– Students receiving financial aid: 80%
– Average Total Aid Awarded: $4,973
– Student Faculty Ratio: 21:1
– Median Earnings 6 Years After Graduation: $40,800 per year
– Employed 2 Years After Graduation: 95%
– Average Total Aid Awarded: $4,973
Established in 1965, the University of Wisconsin-Green Bay has 14 online undergraduate programs and 6 online master's programs, including accounting, nursing, psychology, and human resources management. Other online offerings include accelerated degrees for organizational leadership and business administration and "boot camps" to learn coding and data analytics. For some programs, coursework is available with both on-campus and online options and even a hybrid.
Most Popular Majors
Liberal Arts and Humanities
Business
Psychology
Biology
Nursing
Education74 Graduates
Behavioral Sciences
Communications
Computer Science
History
BECOME A MEDICAL ASSISTANT FAST
If you want to earn a medical assistant degree online, 6 weeks is all it takes. Find helpful information related to accelerated medical programs.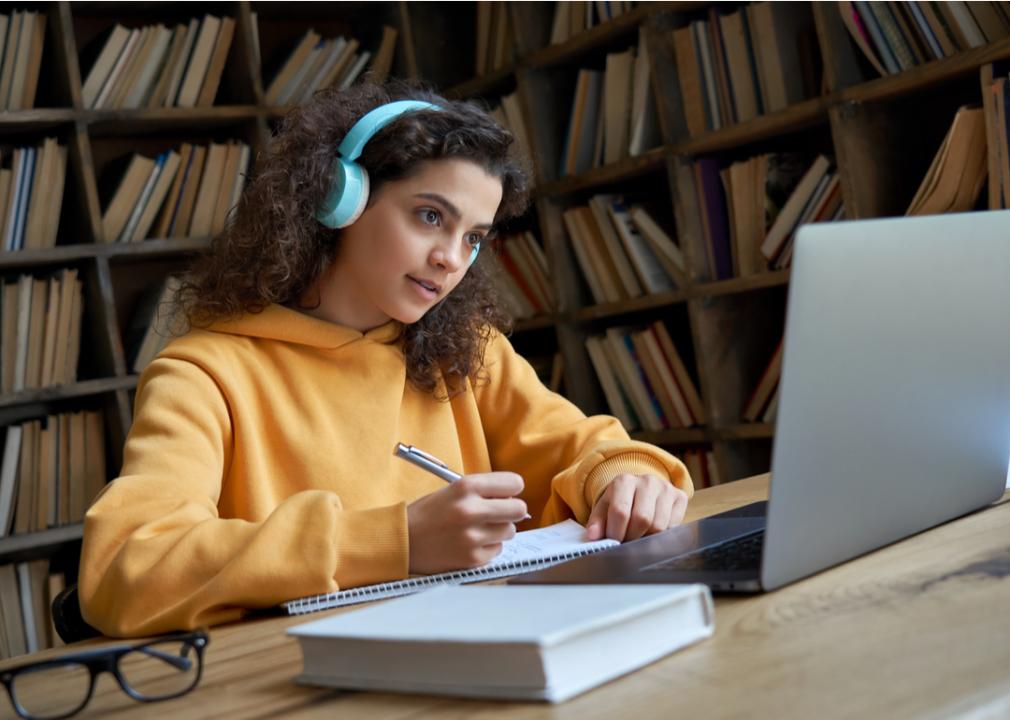 insta_photos // Shutterstock
#7. Eastern New Mexico University-Main Campus
– Annual tuition: $6,648
– Acceptance rate: 51%
– Graduation rate: 40%
– Students receiving financial aid: 97%
Eastern New Mexico University has been approved to participate in the National Council for State Authorization Reciprocity Agreement, allowing the school to deliver online courses across state lines. Students in Texas within a 135-mile radius of ENMU qualify for the in-state tuition rate. ENMU is a federally designated Hispanic-Serving Institution and a Hispanic Association of Colleges and Universities member.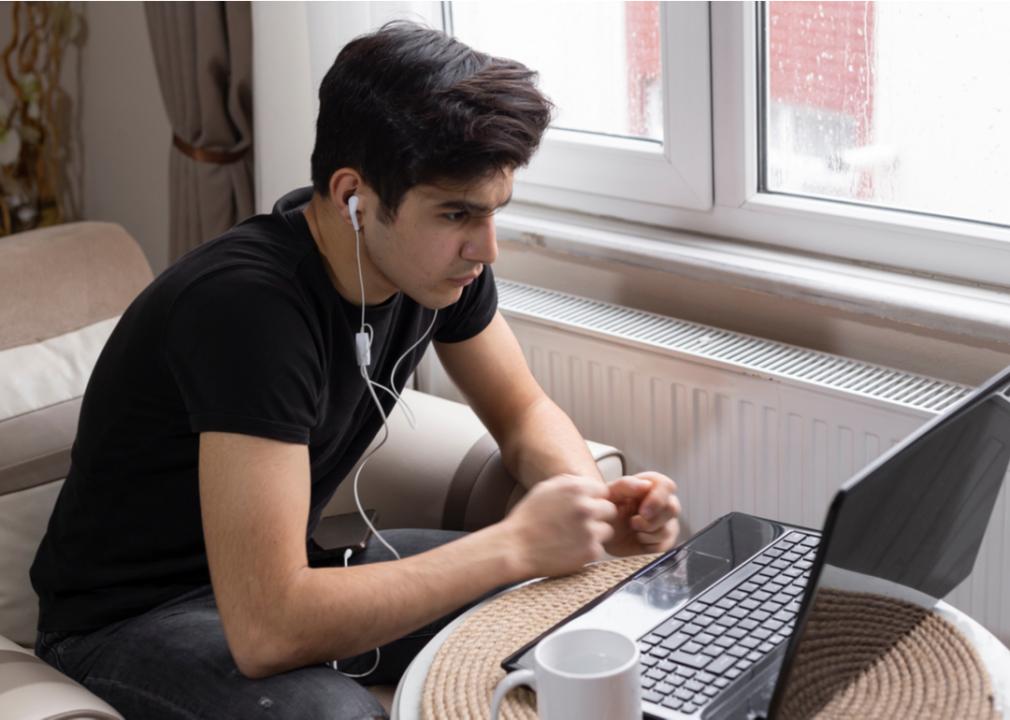 Denizce // Shutterstock
#6. Valdosta State University
– Annual tuition: $6,583
– Acceptance rate: 78%
– Graduation rate: 41%
– Students receiving financial aid: 93%
Founded in 1913, Valdosta State University has a wide selection of online bachelor's degree programs, such as criminal justice, management, organizational leadership, French, psychology, Spanish, workforce education/development, and office administration/technology. The school offers The Online Readiness Indicator, a survey designed for those who are unsure whether online learning is the best option for them. Survey respondents receive tailored feedback and resources to navigate online delivery and potential challenges that may arise.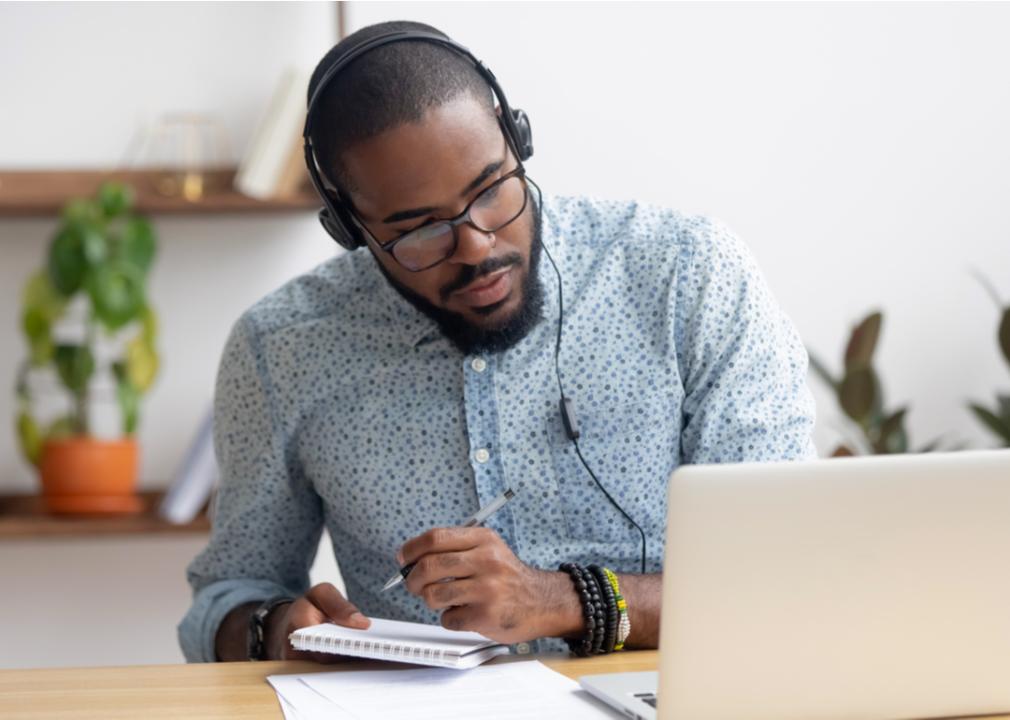 fizkes // Shutterstock
#5. Georgia Southern University
According to our analysis, Georgia Southern University is the fifth cheapest accredited online college in the nation.
– Annual tuition: $6,485
– Acceptance rate: 91%
– Graduation rate: 54%
– Students receiving financial aid: 92%
Georgia Southern University has been awarded several accolades recognizing the school as military-friendly. Online students can choose from various subjects, including world languages and cultures, interdisciplinary studies (such as arts or social sciences), information technology, and nursing (RN-BSN). Students, alumni, and employers of GSU have access to Handshake, an online connection for internships, co-ops, and jobs. Handshake provides connections to the career and internship adviser, on-campus interviews, access to career fairs and events, and assistance with resumes and cover letters.
// Envato Elements
#4. Kennesaw State University
– Annual tuition: $6,436
– Acceptance rate: 83%
– Graduation rate: 49%
– Students receiving financial aid: 91%
Kennesaw State University, located in Kennesaw, Georgia, offers more than 15 online undergraduate programs, including software engineering, supply chain logistics, marketing, sociology, and criminal justice. The same academic support services provided to in-person students are also available to online students, which include academic advisors, financial aid counselors, and mental health counseling.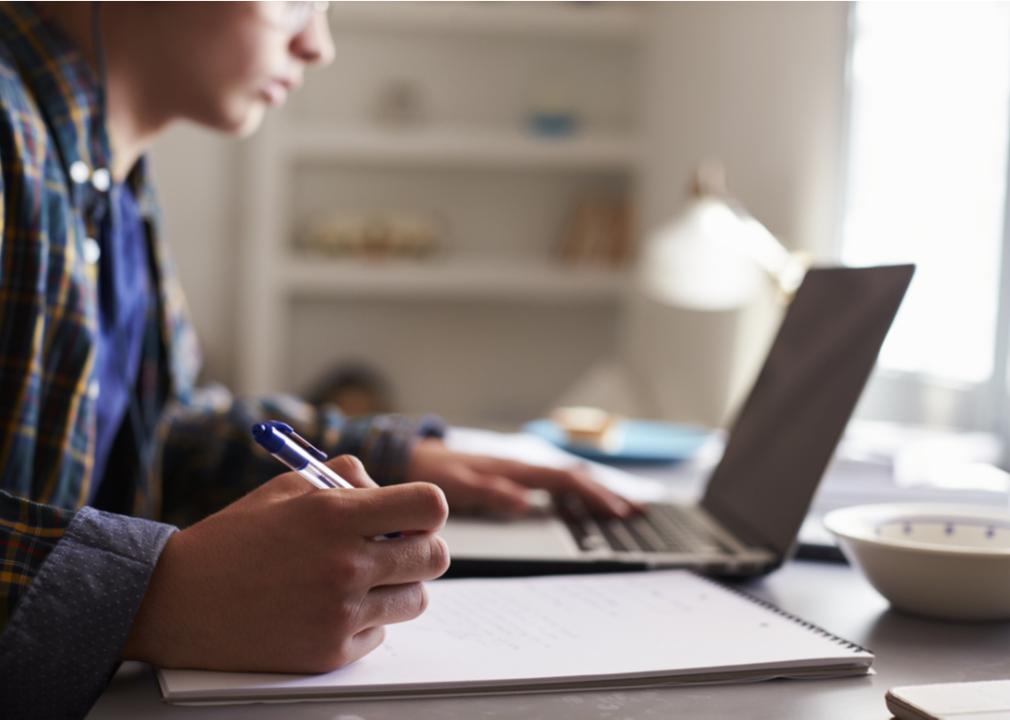 Monkey Business Images // Shutterstock
#3. Clayton State University
According to our analysis, Clayton State University ranks second among cheap accredited online colleges.
– Annual tuition: $5,568
– Acceptance rate: 69%
– Graduation rate: 35%
– Students receiving financial aid: 91%
Clayton State University offers eTuition, a tuition rate designated for select online programs. This adjusted rate is tailored for distance learners. It excludes some of the standard fees that come with the on-campus experience, such as parking or athletic fees. With more than 40 bachelor's degree programs, students can opt for a dental hygiene, biology, health sciences, English, music, nursing (RN-BSN), theatre, and philosophy. Specialized programs include pre-engineering and pre-pharmacy and dual degrees in chemistry and chemical engineering, computer science and engineering, and integrative studies and engineering.
GalacticDreamer // Shutterstock
#2. Western Carolina University
– Annual tuition: $4,367
– Acceptance rate: 48%
– Graduation rate: 61%
– Students receiving financial aid: 86%
Established in 1889, Western Carolina University offers several services for online students, including 24/7 access to online tutoring services via Smarthinking. As a member of the University of North Carolina system, WCU provides education to more than 10,000 students from 48 states and 35 countries. U.S. News & World Report ranks WCU nationally as 46th in Top Performers on Social Mobility and 132nd in Top Public Schools.
FIND AFFORDABLE ONLINE MBA PROGRAMS
A ranking of the cheapest online MBA programs and details of each school and program.
insta_photos // Shutterstock
#1. University of North Carolina at Pembroke
According to our analysis, the University of Carolina at Pembroke is the cheapest online college in the nation.
– Annual tuition: $3,495
– Acceptance rate: 91%
– Graduation rate: 43%
– Students receiving financial aid: 91%
The University of North Carolina at Pembroke (UNCP) is a public university in Pembroke, North Carolina. It offers a wide range of affordable online degree programs at the undergraduate and graduate levels, providing online students with the flexibility and convenience of earning a degree online while still receiving a high-quality education.
UNCP's cheap online degree programs are taught by the same faculty who teach on campus and follow the same curriculum as the on-campus programs. Online students have access to the same resources and support services as on-campus students, including academic advising, tutoring, and career counseling.
UNCP offers online degree programs in various subject areas, including business, education, nursing, and criminal justice. Some of the online degree programs offered by UNCP include:
Bachelor of Science in Nursing
Master of Business Administration
Master of Education
Master of Science in Nursing
UNCP's online degree programs are designed to be flexible and accommodate the needs of working professionals and students with busy schedules. Online courses are typically delivered asynchronously, meaning that online students can complete coursework on their own time as long as they meet any deadlines.
UNCP offers six undergraduate online degrees in criminal justice, sociology, business administration, nursing, interdisciplinary studies, and education.
To be eligible for UNCP's online degree programs, students must meet the same admission requirements as on-campus students. This may include submitting transcripts, test scores, and other required documentation. Online students should also have access to a computer and a stable internet connection to participate in online courses.
In its 2022 rankings, U.S. News and World Report ranked the University of North Carolina at Pembroke #11 in Most Innovative Schools, #13 in Top Performers on Social Mobility, and #22 in Top Public Schools.
Guide to Affordable Online Colleges
Higher education is an important investment that can help you launch a new career, advance in your current job, or switch to a different field.
For those seeking a degree on their own schedule, online colleges offer an excellent solution.
As the demand for affordable online degrees continues to rise, even traditional schools are beginning to offer degree programs virtually.
Online colleges provide students with flexible learning options so they can easily balance work, school, and life.
At the same time, the institution's main goal is to help students reach their personal and professional goals without spending a fortune. Online learning can often translate into lower costs for the same degree as on-campus degrees.
Online degree programs offer students the ability to get an undergraduate or graduate degree from anywhere with an internet connection and on a schedule that fits in with their needs.
The quality of online colleges is just as solid as traditional programs, as these institutions are accredited by one of the seven regional accreditation agencies. As such, graduates of these online colleges are certifiably qualified and knowledgeable in their field.
Are you shopping for the cheapest online college? To help you make an informed decision about the best cheap online college program to pursue, we have explored every aspect of affordable online colleges, including:
How the field of study affects your college's costs
Most affordable online colleges by degree program
How to choose the best online college for your budget
Best financing options for online colleges
How Field of Study Affects Your College Costs
Higher education is increasingly becoming costly with the passing of the years, sparking debates on whether it is worth it. The cost of college depends on many things, such as the field of study, the learning institution, and how the classes are taught. It isn't surprising that some accredited online colleges charge more extensively than others. One needs proper financial planning to meet the cost of earning a degree.
For instance, they first need to research the cost of the program they are interested in, compare the tuition with other universities, and select the most affordable college, even if it means pursuing the program online. This page talks about the different things that affect the cost of a field of study and the choices that students and their families have to make about the cost of college. Another often overlooked aspect of a degree that should be factored in is the return on investment. Be sure to think about how much your chosen degree will cost, how likely it is to help you get a job, how interesting it will be, and how much it will pay once you have it.
What Choices Are Universities Seeing Students and Families Have to Make Based on Higher Education's Costs?
As high school graduation parties end, a new task is ahead of first-year college students and their families. Unlike high school education, which is relatively cheap, higher education comes at a cost. Families and aspiring students have to make their first college tuition payment. Yet, some students and families, especially in low-income households, may worry they won't have enough money to cover the tuition costs. With this, families have to make various choices regarding the cost of higher education. Some of the options include:
Financial Budget: Families must develop a financial budget to help them cover higher education costs. The budget plan will likely include the available resources and how to gain more funds.
Degree Program to Pursue: Families and students have to decide the type of degree the student should pursue. Shopping for a degree program can be difficult, especially with the increased number of degree programs available. This decision can be even more complicated depending on whether you're looking for an online bachelor's degree or an online master's degree program.
Financial Aid: Families and students have to research the financial aid options available to the student. Some financial aid options include student loans, scholarships, and federal grants. They must decide on the best alternative to cover tuition fees and other college expenses.
What Are the Most and Least Expensive Fields of Study?
If you are considering pursuing a college degree, you are probably wondering whether your dream college degree will cost more than the average tuition. As a prospective student, this question should be at the forefront of your mind as some fields of study cost much higher, while others are the least expensive. In most cases, majors that require graduate schooling can be quite costly in the long run. Some of these majors include:
Law
Medicine
Engineering
Architecture
Aviation
Dentistry
Interior design
The least expensive fields of study take relatively shorter periods to study. The least costly majors include:
Education
Graphic design
Psychology
Business
What Factors in A Field of Study Affect How Much a Degree Program Will Cost?
Various factors in a field of study affect how much a degree program will cost. Some of these factors include:
Duration of the degree program
Availability of financial aid
Learning format, distance, or traditional learning
Demand level of the field of study
Employability rate
How Can I Make College More Affordable?
There are several ways to make college more affordable, including:
Apply for financial aid: Many colleges and universities offer financial aid packages to help students pay for their education. This can include grants, scholarships, and loans. Students should complete the Free Application for Federal Student Aid (FAFSA) to see what financial aid they may be eligible for.
Attend a community college: Community colleges often have lower tuition and fees than four-year colleges and universities, making them a more affordable option for students. Many community colleges also have transfer agreements with four-year institutions, allowing students to transfer credits and complete their degrees at a lower cost.
Consider in-state public colleges and universities: Public colleges and universities in a student's state residence may be more affordable than private or out-of-state public institutions.
Take advantage of tax credits and deductions: The American Opportunity Tax Credit and the Lifetime Learning Credit are two tax credits that can help reduce the cost of college. Students or their parents may also be able to claim deductions for tuition and fees and student loan interest on their tax returns.
Enroll in an online program: Online programs can be a more convenient and flexible option for students, and they may also be more affordable than traditional on-campus programs.
Work while in school: Working while in school can help offset the cost of tuition and other expenses. Students should be careful not to take on too much work, as it can negatively impact their academic performance.
Choose a less expensive college or university: Some colleges and universities may be more affordable than others, even if they offer similar academic programs and quality education. Students should carefully compare the costs of different institutions to find the best value.
Take out federal student loans: Federal student loans generally have lower interest rates and more flexible repayment options than private student loans. Students should borrow only what they need and be mindful of their total debt burden after graduation.
Most Affordable Online Colleges by Degree Program
With the increased cost of higher education, aspiring students have opted to pursue cheap online degrees from online colleges since they are cheaper than campus-based programs. One factor that students highly consider in an online degree program is the affordability of the program. Learners also prioritize the flexibility of the degree program. Another factor considered is the school's accreditation status. You are likely here because you are an aspiring student looking for an inexpensive degree to get value for your investment. Considering the tuition cost for a degree is a solid start to your quest. This page explores some of the affordable online colleges that offer quality education.
What Online Colleges Offer Inexpensive Options for Degree Programs That Typically Cost More?
Professionals with college degrees typically earn higher salaries and qualify for more job opportunities than individuals with only secondary education. Pursuing a degree program from an affordable online college helps students earn their degrees without going into debt. Earning your bachelor's degree can unlock several career opportunities in various industries, as almost all entry-level jobs require a bachelor's degree. Bachelor's degree programs related to health care, engineering, architecture, and aviation, among others, can be quite costly.
Hence, individuals pursuing degree options should look for alternative routes to earn their degrees. One alternative is enrolling in an online college that offers inexpensive options for a degree program that typically costs more. The schools also have a flexible tuition payment plan. This article explores some of these online colleges, including the degree programs they offer to enable you to make an informed and cost-effective decision.
The University of Florida has over 200 online programs for bachelor's, master's, and doctoral degrees. The university also offers an online certificate program and associate's degrees. Some less expensive bachelor's degrees include health education, digital arts, and sciences. The programs have flexible course schedules allowing students to learn at their convenience. The school also offers financial aid programs to low-income students, reducing the high cost of higher education.
The University of Texas at Austin extended its programs to meet the high demand for online programs. The schools offer online bachelor's degree options and online degree programs for master's degrees and other continuing education courses. The university also offers professional development classes which help a business organization maintain skills and a productive workforce. Some of the programs offered by the university include legal education, health informatics, public affairs, and social work education. The master's degree programs include mechanical engineering, electrical and computer engineering, and engineering management. These programs are relatively cheaper compared to those provided by other learning institutions.
The University of Connecticut offers online programs in several fields of study, including science and engineering, public policy, energy and environmental management, and digital media and design. Like the on-campus students, online learners have access to academic and student support services, such as career advising, tutoring services, and assistance with graduate-level research. The online programs are asynchronous, enabling students to earn their degrees through a flexible and convenient learning environment. The online lectures are provided through live sessions, video recordings, and discussion boards.
Indiana University-Bloomington has over 150 online degree programs at the graduate and undergraduate levels. Some of the inexpensive online programs offered by the school include public health, labor studies, computing, and technology. The learning institution attracts close to 6,000 distance learners annually. The online programs are fully online, and students do not need campus visits to complete specific online courses. Distance learners have round-the-clock access to online student services such as academic advising and career services. They have access to internship opportunities like the campus students.
How Do Inexpensive Online Colleges Still Guarantee Excellent Quality When Providing an Education?
Some students doubt the legitimacy of inexpensive colleges. If you want to invest your time and money into pursuing a degree program, you want to ensure the program is valuable and recognized by employers and professional bodies. You probably want to ensure other universities recognize the degree if you continue your education. Whereas most online schools offer inexpensive programs, they offer quality and legitimate programs that help meet your professional needs. But how do they maintain quality?
Although there are many legitimate online options for a bachelor's degree program or higher-level education, illegitimate online schools provide subpar education. The online colleges offering affordable programs differentiate themselves from scam colleges by voluntarily seeking regional accreditation. Having a regional accreditation guarantees quality and standardized easiest online degrees. The accreditation process is quite rigorous and might take several years, as the accreditation agency has to ensure the institution has met all the pre-defined accreditation standards. Maintaining accreditation involves a lot. Meaning that inexpensive online colleges have to maintain quality standards to avoid losing accreditation.
Which Colleges Offer Affordable Online Versions of In-Person Degree Programs?
If you want to make informed cost-effective decisions about higher education, considering only the program's affordability might not be enough. You also need to consider the quality of the education and the value of the degree program. To help you decide, we have outlined some colleges offering affordable online versions of in-person degree programs. Here are some of the colleges you need to consider:
Georgia Institute of Technology ranks high among colleges offering affordable online versions of in-person programs. The university does provide not only affordable programs but also quality education programs. The school is specifically known for its information and computer science degree online program. The college charges approximately $2,700 annually for the program.
The University of Maryland Global Campus offers affordable online programs in various fields, including public administration. Political science and government, criminal justice and research, and natural resources conservation and research. Students considering pursuing the offered field of study should look no further than the University of Maryland Global Campus.
The American Public University is a for-profit online college offering over 190 affordable certificate programs at the undergraduate and graduate levels. Some of the degree programs offered by the school include space studies, business, electrical engineering, health sciences, criminal justice, and sports management. Interestingly, the school has an open admission policy, allowing students to enroll in various programs without fulfilling specific academic requirements.
The National University boasts over 150 online college programs in different fields of study. The school has significantly improved its online campus to ensure improved distance learning outcomes. The online programs' classes and tools are accessible throughout. Some programs offered include teaching in early childhood education and elementary education, healthcare, engineering and technology, math, criminal justice, social sciences, and humanities.
How to Choose the Best Online College for Your Budget
With rising tuition costs, it can be hard to find affordable colleges. Not all students qualify for financial aid from the federal government, state government, or individual colleges and universities. Most students who avoid student loans, such as loan repayment without debt forgiveness, will have less disposable income once they start working. Students can find affordable online colleges that help them reach their personal and professional goals because the number of online colleges is growing every year. This guide covers finding an affordable college program, including deciding if the program is right for your budget.
Cheapest Online Colleges FAQ
Q: Are there any financial aid options for students enrolled in online colleges?
A: Yes, financial aid options such as grants, scholarships, and student loans are available for students enrolled in online colleges. Researching and applying for financial aid through the college's financial aid office is important.
Q: Are online college degrees reputable?
A: Yes, many reputable colleges and universities now offer online degree programs that are just as reputable as their on-campus counterparts. However, it's important to research the accreditation and reputation of the specific online college or program before enrolling.
Q: Are online college classes self-paced?
A: It depends on the college and program. Some online classes are self-paced, while others have set schedules and deadlines. Be sure to research the specific class format before enrolling.
Q: Can I transfer credits from online to traditional colleges?
A: It depends on the college's transfer policy. Some colleges will accept transfer credits from online colleges, while others may not. It's important to research the transfer policy of the college you plan to transfer to before enrolling in an online college.
Q: Are online college programs available for graduate degrees?
A: Yes, many colleges and universities now offer online graduate degree programs. Research and compare the options available in your field of study.
How Can You Decide If an Affordable Online College Is Right for You and Your Learning Style?
Given the different learning formats used in colleges and universities, choosing the type of degree program to pursue is a crucial decision to make. Before choosing an inexpensive online college, such as nonprofit online colleges, you need to determine if the program is right for you and your learning style. Consider several factors, including:
What you are passionate about: You need to identify the field of study you are passionate about and link it to your attributes. For instance, if you are passionate about impacting other peoples' lives, you should consider an online college offering healthcare degree programs.
Consider your learning style: If you are an individual who prefers to learn from home rather than physically attending classes, you probably need to enroll in an online school. Online colleges allow students to earn their degrees in flexible learning environments.
Are you a tech-savvy person? Online learning processes mainly take place over the internet and through computer gadgets such as laptops and desktops. If you are a tech-savvy individual, you will probably enjoy learning online.
Career Potentials: Online college programs have different career potentials. If you seek to land a job immediately after graduating, you should probably enroll in a college with career advising and a high employability rate.
How Can You Decide If an Online College Is Right for Your Budget?
Students can avoid expensive degree programs by attending online colleges that don't cost much. Cheap online colleges help students avoid debt and out-of-pocket expenses associated with traditional colleges. Although online colleges help students save money, choosing a program within your budget is vital.
Choosing the best college for your budget helps students avoid debt. You might be able to afford an online college if you can pay the annual tuition costs without needing help from the government. The budget could be ideal if a student doesn't have to ask for a flexible tuition payment plan.
How Can You Be Sure of the Total Cost of an Online Program Before You Commit?
Even if you get a cheap online degree, college can be expensive in the long run. It is essential to determine the actual cost of an online degree before committing. Most potential students only think about tuition and fees, ignoring other indirect costs that could make the online degree more expensive overall. To determine the total cost, it is vital to consider other things, such as books and online course materials. It would help if you also determined transportation costs related to on-campus requirements.
Best Financing Options for Online College Students
Higher education can be expensive, and almost all college students need help paying for their degrees. Financial aid helps students cover tuition and other college-related expenses. There are various financial aid opportunities available to American students. These financial aid options range from student loans, grants, fellowships, scholarships, and multiple awards accorded to academically gifted students. This guide explores the best financing options for online college students. The focus will be on helping you find the right financing option that meets your educational needs.
What Is the Overarching Breakdown of Federal Laws Surrounding Student and Educational Loans?
The federal government plays a vital role in the student loan industry. It works with companies that handle student loans to help it handle its massive portfolio of student loans. The federal government is also keeping a close eye on the student loan industry to ensure that student loans are handled well. A student must meet specific eligibility criteria to be eligible for student loans.
Since the introduction of educational loans, several laws have been enacted to regulate the student loan industry. The regulations have helped set the eligibility criteria for loans, the maximum amounts awarded, and the repayment period. The laws regulate the activities of student loan services to curb unscrupulous loan activities.
What Are the Different Types of Student and Educational Loans, And How Can You Pick One That Is Right for You?
College and university students are eligible for different student and educational loans. The most common types of financial aid include:
Student loans are the most common form of financial aid designed to help students cover higher education expenses such as online college tuition costs and books. Mostly, student loans are offered by state and federal governments. However, learners are also eligible for loans from private and public institutions. The common types of student loans include:
Federal Loans: Federal loans are the most prominent form of student loans. Federal loans come in various forms. They include direct subsidized loans, direct unsubsidized loans, Direct PLUS loans, and federal Perkins loans.
Private loans: Learners qualify for loans from private financial institutions such as banks, private foundations, and credit unions. Private loans attract higher interest than federal loans. The number of loans varies with the awarding institution.
Institutional Loans: Currently, colleges and universities provide loans to eligible students to help cover college-related expenses. Students must repay the loans after the grace period expires, usually six months.
Scholarships
Scholarships are the most competitive form of financial aid. Scholarships are the most preferred type of financial aid because they do not have to be paid back. Scholarships are awarded based on various factors, including the field of study, financial need, and academic merit. Financial aid is available to traditional programs and the fastest online degrees. Schools, private companies, nonprofit organizations, foundations, and government agencies all award scholarships. Applications require students to submit academic documents such as transcripts, recommendation letters, and essays. To get a scholarship renewal, students must maintain a certain average GPA.
Like scholarships, grants do not require repayment. To be eligible for grants, students must fulfill various need-based requirements. The data submitted by FAFSA usually determine the applicants' financial needs. The applicants must also submit their income and tax information to their guardians. Students doing research can also get grants from private groups to help them finish their projects.
Fellowships are mainly offered to graduate students or those in a graduate degree program. Undergraduate learners in some colleges and universities are also eligible for company fellowships. Students earn fellowships in exchange for research or work related to their degree programs. For online learners pursuing a higher level online degree, in some cases, you might be required to teach undergraduates a specific course related to your major. Fellowship students get discounted tuition rates.
Employer-Sponsored Programs
Several companies offer incentives to employees who want to keep learning, even if it means going to school online. Employer-sponsored programs may cover a portion or all of the cost of education. To get the education incentive, employees usually promise to work for the company for a certain amount of time after graduation.
Before picking any financial aid option, it is vital to understand how aid works. This will help you decide the right choice. There are those aids that require repayment, while others lack repayment options.
Where Can You Find Scholarships for the Cheapest Online College Degrees?
Prospective online students can find scholarship opportunities from various organizations. Some of the common organizations that provide scholarship opportunities include:
Federal and State Government: Federal and state governments award scholarships to low-income students seeking various online programs. The students have to prove they are financially incapable of financing their education.
Colleges and Universities: Colleges and universities award scholarships to students excelling in various curricula and co-curricular activities such as leadership and sports.
Professional Associations: Professional bodies award annual scholarships to students pursuing degrees in a specific field.
Nonprofit Organizations: Nonprofit organizations award scholarships to vulnerable students such as immigrants and persons living with disabilities.
The increased cost of higher education has necessitated the need to find alternative ways of pursuing college and university degrees. Most students, especially those who cannot finance their education programs, have turned to online colleges as an affordable means of earning their degrees. The increased number of online colleges has led to increased accessibility to online education. Currently, students prioritize the affordability of educational programs when shopping for online colleges. Every student wants to get value for their investment. They spend most of their time researching the best affordable programs rather than hurriedly choosing programs that might prove costly in the long run.
Affordable Online colleges have several benefits, whether you're a prospective student interested in pursuing an associate degree, an online bachelor's degree, a graduate school program, or a graduate certificate. They allow students to earn their degrees in a flexible online learning environment. Online colleges are relatively cheaper than traditional programs. Despite their affordability, the programs still offer high-quality and valuable degrees. Employers, professional bodies, and other colleges and universities highly regard degrees. Online programs are also the easiest and quickest way to earn a cheap online degree. If you are looking for the best cheap online degree program that will suit your financial and professional needs, consider online colleges.
Online Programs That Might Interest You
Learn about start dates, transferring credits, availability of financial aid, and more by contacting the universities below.